Glenn Kaino A forest for trees is a stunner. Let's get that out of the way. The new immersive experience opening today at Ace Mission Studios transforms a 28,000 square foot warehouse into a surreal environment populated by light, sculpture, animatronics, installations and music, all working in concert to provoke a reconsideration of our relationship to the natural world.
Entering the main space of Forest, a promenade flows under your feet with every step. A soothing ambient soundtrack soothes your ears as you glean your surroundings through a column of tree trunks that line the path. The warehouse is only half lit, but spotlights cross the space allowing you to see floating threads of air. The ambiance is ethereal and contemplative. You are comfortable, but also curious. What is all this stuff?
On one deck is a 14-foot-tall depiction of a 4,800-year-old bristlecone pine tree, and on another viewers crowd around a blue skylight. You step over the well-covered plexiglass and look down. Something nauseating but also magical is sweeping through your body. What did Thoreau say? I am the transparent eyeball. Yes, you might feel it a bit here.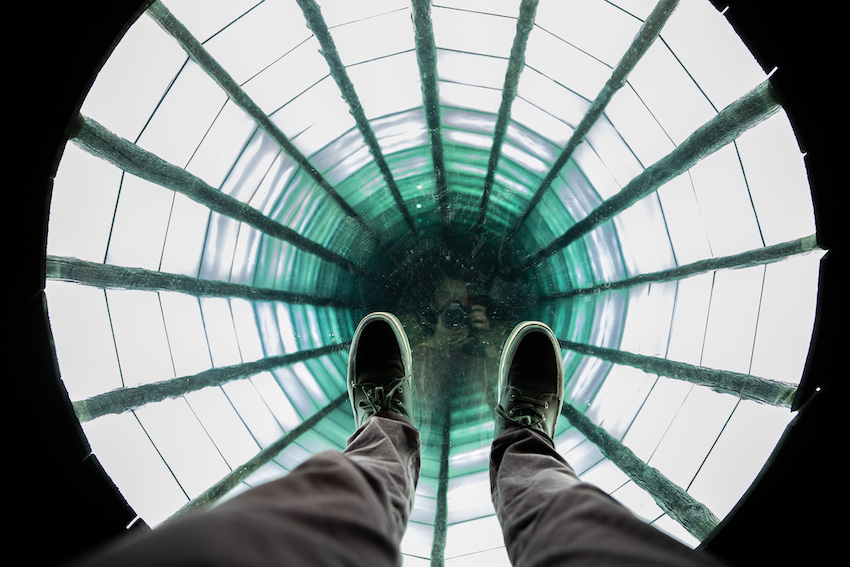 As you continue to traverse space, animatronic helmets connected to tree trunks speak to you as you pass, providing a communication channel to the secrets these ancient forest dwellers have to share. In another space, a large angled panel emits what looks like a cascade of flickering flames, but is really just a visual trick of water vapor and light. The effect alludes to the prescriptive burns used by Indigenous peoples for thousands of years, which have helped these cultures shape and maintain the landscape. Perhaps, it suggests, we need to look to the past if we are to alleviate issues like wildfires exacerbated by climate change.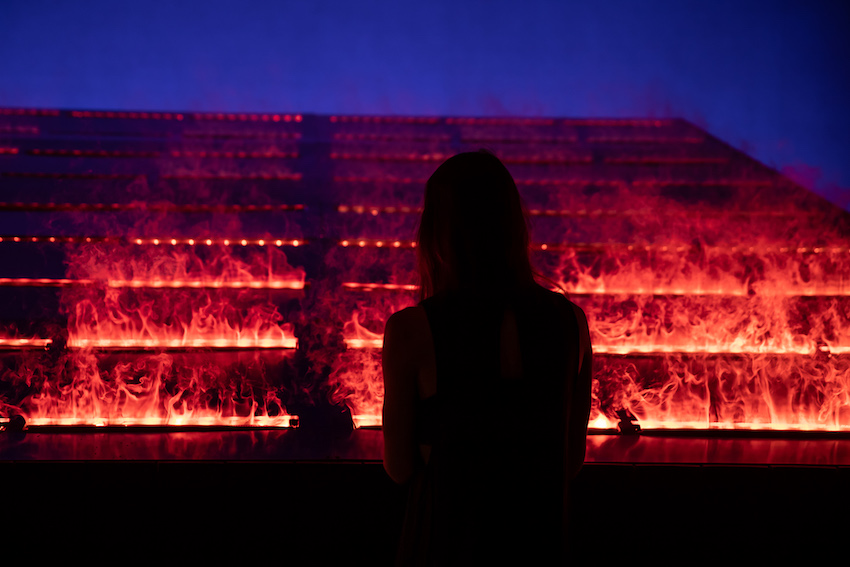 There's a lot to like Forest, and it starts with the artist at the helm. Kaino is a creative powerhouse, with credits including producer Derek DelGaudio In itself and in itself on Broadway, and as curator of the upcoming Pacific Standard Time exhibition at the Hammer Museum, Breath(e): Towards climate and social justice. But Kaino rarely does it alone.
It takes a lot of trees to make a forest, so to speak, and that's the case here. There is the intellectual weight of Atlantic magazine, which acts as the lead presenter and offers an archive of over 150 years of nature writing as a starting point. There are the deep pockets of Mastercard, which is the main sponsor and, you know, keeps the lights on. There's also the know-how of Superblue's experiential art production team, aided by the direction of executive producer Vance Garret who also helped launch Sleep No More, Museum of Ice Cream and 29Rooms. Then there's the music, which was another highlight of the show. The soundtrack was produced by TV on Radio founder David Andrew Sitek, who along with Kaino formed the art and music collective High Seas.
In short, the vast array of talent come together to create a one-of-a-kind environment that showcases Indigenous stories, captures viewers' imaginations and reorients them towards climate justice. And yes, there's also a little woven LA history, too.
Advertisement
The final beat of the experience is built around the recreation of a 144-year-old fig tree that once stood on Olvera Street near the birthplace of Los Angeles. The tree fell in 2019but the remains were kept at Angel City Lumber, which is how it caught Kaino's attention.
This version of the fig has, instead of leaves, a cloud of steel cubes, each housing a small light that turns on or off and changes color like a pixel on a computer screen. The music is playing. The lights on the tree flicker and then unify, first bright white, then brighter colors. The transformation underlines the optimistic tone of the show. What's broken or shattered can be put back together, with the right mindset and a spirit of collaboration. It's a noble thought, and I hope it won't go unnoticed by those who are only drawn to pretty lights and Instagrammable installations.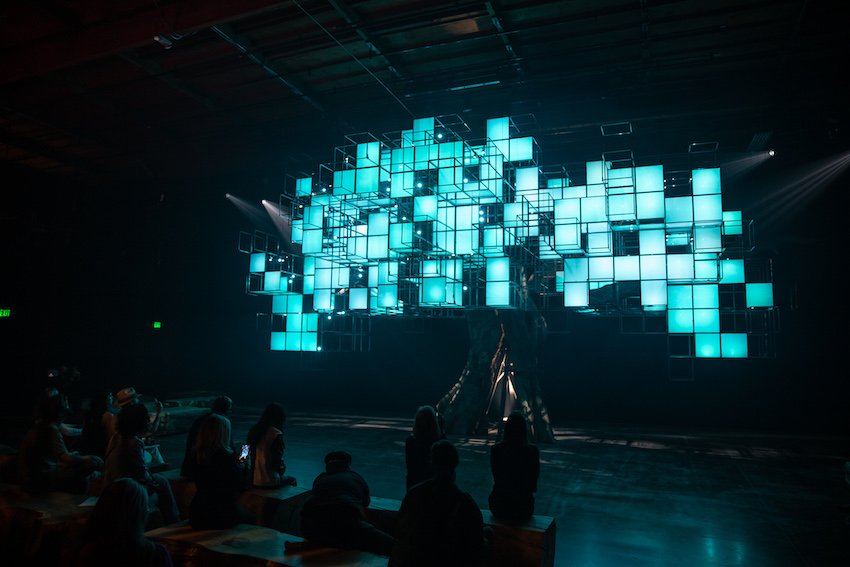 With off-peak tickets starting at $20 for an adult (or $18 if paying with a Mastercard), the price isn't out of reach for most. In fact, if you compare it to the going rate for other recent "immersive" experiences, it looks like a bargain. In total, the experience lasts about an hour. If you get the chance, I highly recommend checking it out. It's one of the best things I've seen this year.
---
A Forest for Trees begins Friday, May 13 and will run through Summer 2022 (no firm end date has yet been disclosed). Tickets cost between $10 and $50, depending on child or adult, and peak times or not. Hours of operation are Wednesday through Sunday from noon to 6 p.m. Ace Mission Studios is located at 516 South Mission Road, Los Angeles. Get tickets and more information here.
Advertisement